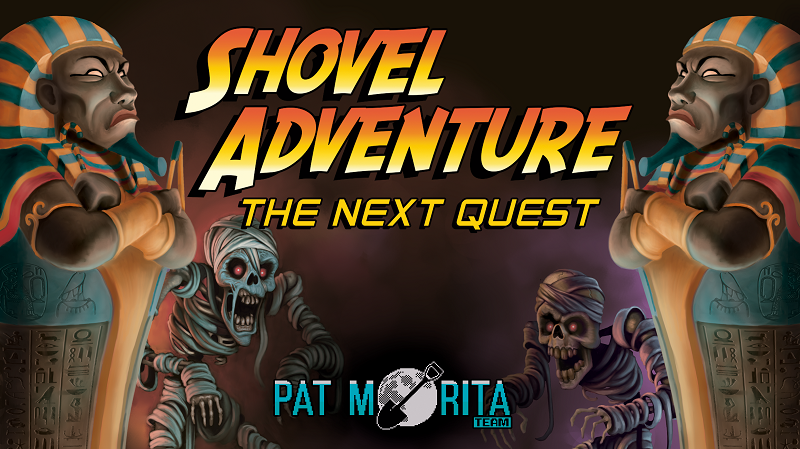 Shovel Adventure: The next quest (Spectrum Next)
This is a game for the ZX Spectrum Next.
There are several ways to play it:
Actual ZX Spectrum Next or clone such as N-GO
Emulators (Cspect, Zesarux)
FPGA devices like MisTer or Sidi using the Spectrum Next cores.
* We recommend CSpect emulator for Windows users, it is very easy to run the game following the instructions included in the download.
---
Physical edition
Physical editions can be purchased in our store, if you are interested visit us on:
---
Story
You are Johnny Palas, legendary archaeologist of Utrera. After extensive research you have finally solved the greatest mystery of ancient Egypt: you have located the secret entrance to the Pharaoh's Lholha Flowers chamber.
To find the entrance, you must enter the Great Pyramid and collect all the gems within a limited time. Only when you have unearthed all the gems can you take the Ankh and progress to the next chamber.
Fifty chambers await you and your shovel before you can access the secret entrance… Are you ready to accept the challenge?
Features
This game is the ultimate version of Shovel Adventure, released before for the systems: Amstrad CPC and ZX Spectrum 128K.
50 levels (6 more than the original game)
Boss stages
2 graphic modes: Next & Classic
Load/Save your game on SD card
2xAY sound
Joystick and keyboard support
Redefinable keys (saved on SD card)
Hi-Scores table (saved on SD card)
2 languages (English, Spanish)

Credits
Graphics: Jarlaxe
Code, Music & SFX: Antonio Pérez
Original concept: Igor Errazking
Testing: Perretes Group, Hicks, Javi Ortiz
Trailer: Javier Fopiani
Text review: Richard Hallas
Special thanks: Duefectu, Boriel, em00k, Javi Ortiz, Bitfans_F3M0, Mr.Rancio, Dani Volatil.
The publication of this game has been made possible thanks to the 397 patrons who participated in the Kickstarter campaign that we carried out in July 2022.

We wish to express our most sincere gratitude to all of you who made this project a reality.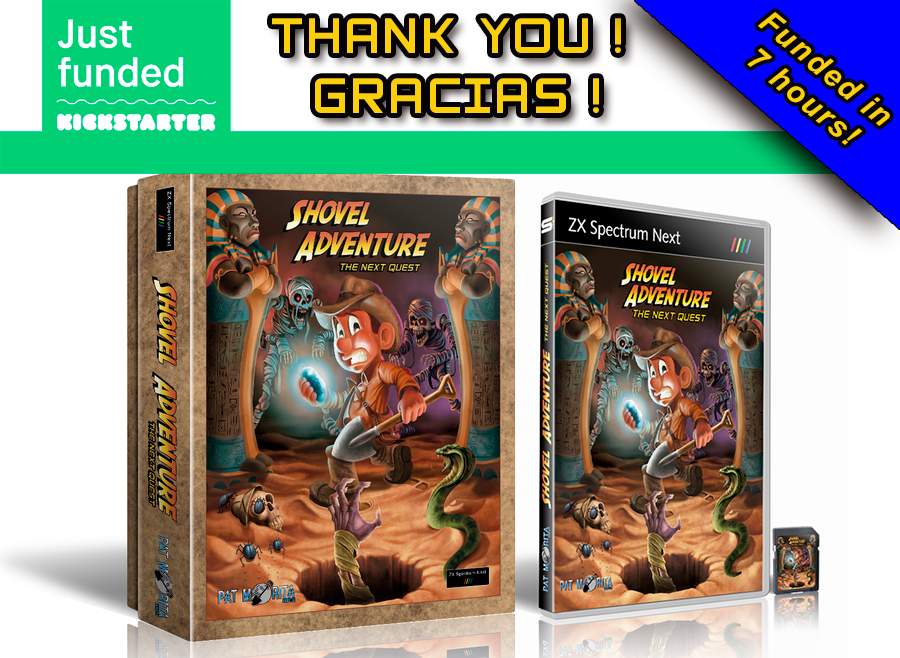 Visit us on Kickstarter for more info:
https://www.kickstarter.com/projects/patmorita/shovel-adventure-for-spectrum-nex...