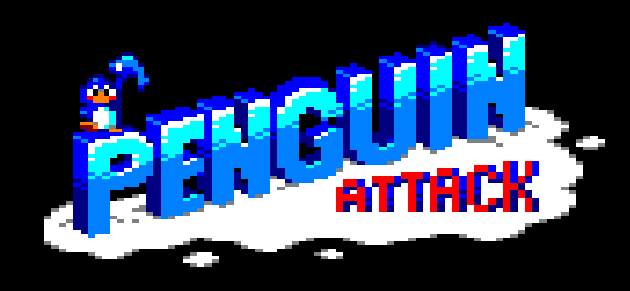 Penguin Attack (Amstrad CPC)
Description
The "Black Pingus", a gang of thugs, are terrorizing the lands of Pinwiland with the help of other evil associates. As part of her evil plans, Pinwi's girlfriend, Ninwina, has been kidnapped and hidden somewhere in the country.

Pinwi is an expert snowball thrower and is willing to fight to get his love back, are you going to help him?
How to play
This is an Amstrad CPC 464 videogame. You can play it in a real CPC 464/6128 computer or using an emulator. We recommend Retro Virtual Machine (RVM) for the second case.
Instructions to play using RVM:
TAPE
Download the CDT file.
Open RVM, create or select a CPC 464 as machine. Open that machine.
Press the tape icon and insert (select) de CDT file by pressing STOP in the virtual cassette player.
Type RUN" and press ENTER twice.
Press PLAY in the virtual cassette player.
The game will load, wait some minutes or press FORDWARD icon to accelerate the process.
DISK
Download the DSK file.
Open RVM, create or select a CPC 6128 as machine. Open that machine.
Press the disc icon and then click on the floppy drive button. Click on "insert" and select the DSK file.
Type RUN"DISC and press ENTER.

The game will load in a few seconds.
Controls:
You can use keyboard or joystick to play the game. Control Pinwi with the joystick and shoot with the fire button.
The snowballs will be thrown in the direction that we are pressing. There are 5 possible directions: left, up, right and their diagonals.

Slide and dodge.
By pressing the lower diagonals (down-left and down-right) the player will be able to slide sideways and dodge enemy shots in the meantime. During the slide you will not be able to shoot. Use it wisely.


The keys are:
O: Left
P: Right
Q: Up
A: Down
Space: Shoot
Please, download the instructions manual for more details about the gameplay.
Authors and licenses
This game was made by the Pat Morita Team.
This game is made using the framework Pestecera by the Mojon Twins. Special thanks to Nathan for his tools and for helping always.
License: the included source code and all the libraries used for the game has a Creative Commons license.
Gesture
According to the CPC Retrodev rules, we included a gesture to the game Larcena's Legacy. Some enemies may leave an envelope when dead. This item contains his salary as a hired thug. It gives us extra points and should not be missed if we want to finish the stage with a "Perfect" bonus (read the manual for more information).

Purchase
In order to download this game you must purchase it at or above the minimum price of 1.99€ EUR. You will get access to the following files:
Penguin Attack Instruction Manual (English).pdf
627 kB
Penguin Attack Manual Instrucciones (Castellano).pdf
629 kB
Penguin Attack V1.0.2 [CDT]
30 kB
Penguin_Attack_V1.0.2 [DSK]
190 kB
Penguin_Attack_V1.0.1 [Mass Storage].dsk
190 kB
Penguin Attack V1.01 [CPR] by AYOR61
512 kB